Expert Water Heater Installation in San Francisco Peninsula, CA
We know that it's tempting for homeowners to go with convenience with installing a new water heater. However, water heater installation from your local San Francisco plumbing expert is better when it comes to reputation, quality, and cost savings.
Water heater installation and water heater repair are our specialties. George Salet Plumbing offers six and 10-year full parts & labor warranties on all of our standard and premiere water heater models. We do this because of our confidence in the quality of our products and our superior installation!
Instead of calling a chain appliance store, call the plumbing pros at George Salet Plumbing, and let our quality technicians take care of your water heater problems today!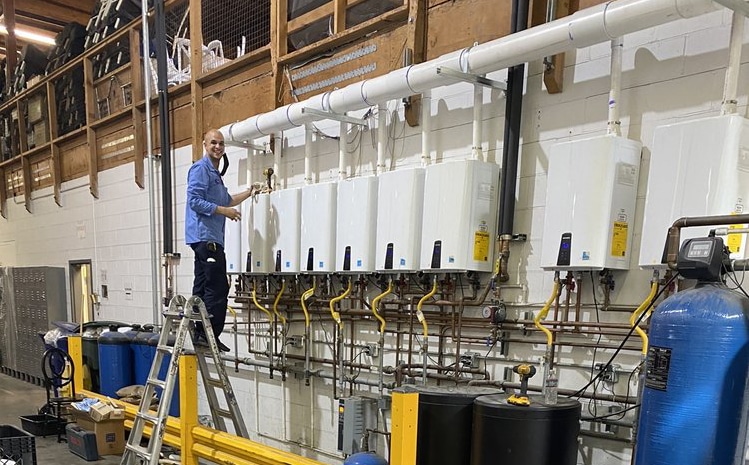 We Install Tankless Water Heaters
San Francisco is considered to be in a more temperate zone, so tankless water heater installation makes sense if you want to save money on heating water. Tankless water heater installation requires a licensed, qualified technician to do the job for several reasons. First of all, in order to make sure that the warranty remains valid, the technician must perform the tankless water heater installation according to the manufacturer's specifications or the warranty may be voided. Tankless water heater installation may also require a permit and must meet local building code requirements.
Tankless water heater installation is not a do-it-yourself project. Let one of our qualified technicians get you the tankless water heater that will deliver the gallons per minute at the temperature you need to start saving money today!

Water Heater Installation FAQs
Tankless water heater installation requires figuring out exactly where in your house or condo you are going to need hot water. Some people buy an 'on demand water heater' for one appliance that they don't use every day. Others, who may live in a smaller home, like a condo, go for a whole house water heater.
At any rate, our expert technicians can help you determine where the water heaters will be placed in your home and how many gallons of water they will heat per day.
Most people tend to purchase a single Tankless Water Heater for their entire home. However, some people still prefer smaller Electric Tankless Water Heaters for smaller fixtures, like bathroom sinks.
Our quality technicians are factory trained to repair and install tankless water heaters like Takagi Rinnai. We also install and repair tankless water heaters like Noritz, Bosch, Aquastar, Paloma, State, AO Smith, and Rheem. We are factory trained for AO Smith and State brand water heaters if you are looking for tank-type water heater installation and repair.
Installation by authorized, licensed, and insured professionals
Delivery of your new water heater
Inspection of your existing water heater and, if needed, a written quote detailing any additional work required to bring your new water heater up to the construction code in your area
Drain and remove your old water heater
Connect your new water heater to the existing gas or electric and water lines
Fill and test your new water heater to make sure it's working properly
Provide guidelines for the proper use of your new water heater
Clean up the installation site
Remove and dispose of the old tank
State Water Heaters come with a full one-year in-home warranty on parts and labor, plus a limited 6 Year warranty on tank and functional parts