Expert Water Heater Installation in San Francisco Peninsula, CA
We know that it's tempting for homeowners to go with convenience with installing a new water heater. However, water heater installation from your local San Francisco plumbing expert is better when it comes to reputation, quality, and cost savings.
Water heater installation and water heater repair are our specialties. George Salet Plumbing offers six and 10-year full parts & labor warranties on all of our standard and premiere water heater models. We do this because of our confidence in the quality of our products and our superior installation!
Instead of calling a chain appliance store, call the plumbing pros at George Salet Plumbing, and let our quality technicians take care of your water heater problems today!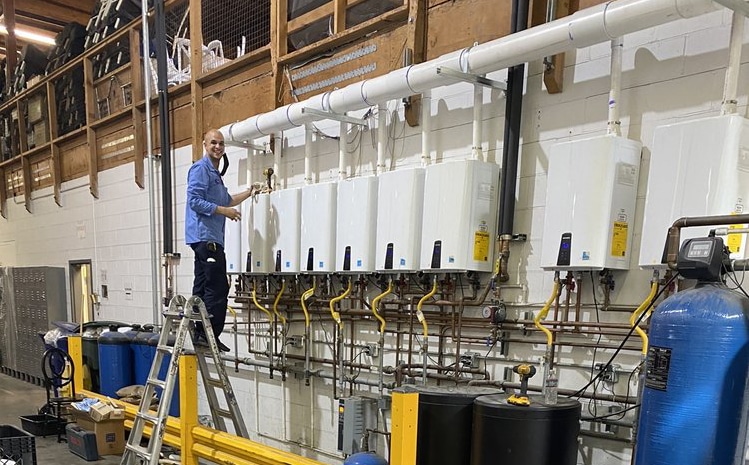 Professional Tankless Water Heater Installation Services
When it comes to tankless water heater installation in San Francisco, it's important to rely on licensed and qualified technicians. San Francisco's more temperate climate makes tankless water heaters a cost-effective choice for heating water. However, proper tankless water heater installation is crucial for maintaining warranty validity and meeting local building code requirements. At our tankless water heater company, we have skilled technicians who specialize in professional tankless water heater installation.
Tankless water heater installation should not be attempted as a DIY project. It requires qualified professionals' knowledge and experience. Our licensed technicians will ensure that the tankless water heater installation is performed according to the manufacturer's specifications, preserving warranty coverage. Additionally, depending on local regulations, obtaining a permit may be necessary for the installation.
By trusting our qualified technicians with your tankless water heater installation, you can be confident that the system will deliver the desired gallons per minute at your desired temperature. This will result in energy and cost savings. Our experts will help you choose the right tankless water heater that meets your specific needs, and then install it professionally to ensure optimal performance.

Water Heater Installation FAQs