American Water Heater Service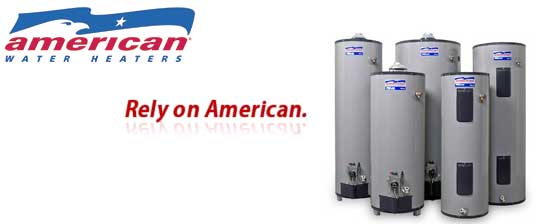 American Water Heater Authorised Service Agent
American Water Heater service is an innovative and quality American company that we at George Salet Plumbing are happy to do business with because of their American roots. Just like George Salet plumbing, American Water Heater has been providing water heater service in the U.S. for a long time. So if you are interested in buying a truly all-American product, talk to one of our local San Francisco plumbing experts about American Water Heater service. They will be able to tell you about the entire process, including the delivery, water heater installation, and the model that is right for your home or business. If you want a gas-powered water heater, they can explain gas line installation and vent installation as well.
More About American Water Heater Service
American Water Heater service means buying water heaters that are made in the United States. Located in Johnson City, TN, American Water Heater is a leading U.S. manufacturer of energy efficient water heaters and replacement parts. Their location in Tennessee also serves as a convenient distribution center and company headquarters. American Water Heater manufactures and sells both gas and electric water heaters for residential and commercial use. In San Francisco, if you want an American Water Heater appliance, our water heater installation experts at George Salet Plumbing can help you find the right American Water Heater unit for your home or business.
The 40 Gallon Residential Electric Unit
American Water Heater service units are based on more traditionally designed hot water tanks, with modern improvements. For example, their 40 gallon residential electric unit features dual heating elements and non-CFC polyurethane foam insulation to reduce energy costs and prevent heat loss. This unit also comes with a fused ceramic shield tank for protection against corrosion and a 'high limit' control that prevents the unit from overheating. This model is approved for water heater installation in a variety of different types of construction including manufactured housing. It is also HUD approved, and comes with a 6 year warranty.
American Water Heater Repair
American Water Heater service also includes water heater repair. So, if you have an older unit and want to know about water heater tune ups for your American Water Heater unit, we can find the parts you need and provide quick water heater repair service. Getting regular maintenance on your water heater can make it last for more than twenty years. This is because removing the sediment and corrosion will help your water heater work as well as it did when you first bought it. At George Salet Plumbing, we offer free water heater repair estimates, same day service and guarantee all of our work. Give us a call! Our San Francisco plumbing experts can help you with any brand of water heater installation and water heater repair.