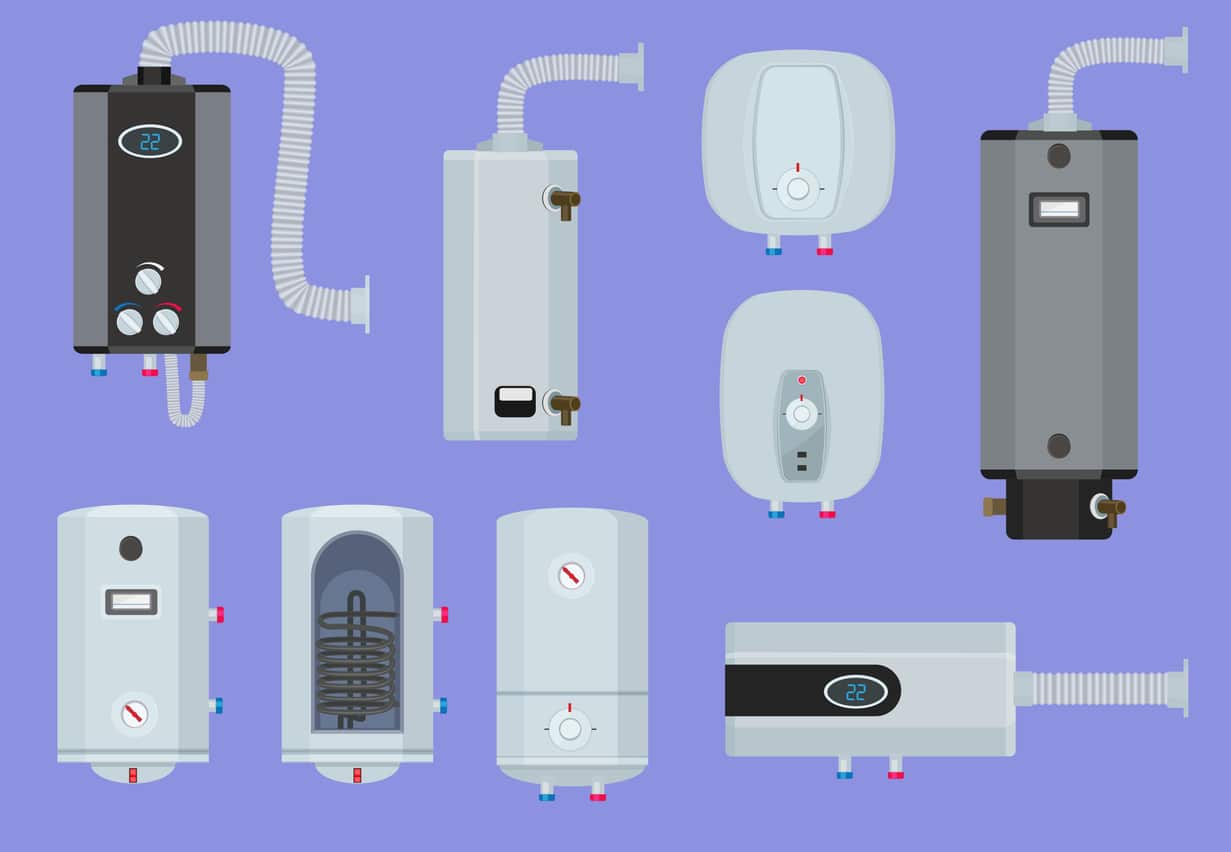 A Homeowner's Guide to American Standard Water Heaters
Choosing a new water heater can be an overwhelming process. From sizing to type, fuel source to environmental impact, there is a lot to consider. On top of everything, you also have many brand names to choose from. Many are notorious for poor quality or consistent issues, as plumbers who have installed, maintained, and repaired thousands of them can attest. Others are known for durability, quality, and efficiency. American Standard is one of those brands.
Today, let's take a deep dive into the pros and cons of American Standard water heaters. At George Salet Plumbing, we're always standing by to educate our customers on the best water heater brands, models, and types. If you'd like a custom recommendation, schedule a service call today!
Everything San Francisco Homeowners Should Know About American Standard
American Standard is a trusted, established brand that has been going strong since 1875. They are known throughout the plumbing industry for producing reliable and durable fixtures, including their water heaters. They also hit the sweet spot between budget-friendly and high-quality, making them an excellent option for homeowners.
Considerations to Make Before You Buy
Fuel Source
American Standard makes both gas and electric water heaters to suit the type of fuel your home is fitted with. For homeowners with a gas supply, the brand's natural gas tank water heater options offer superior value for money. Their tank-style electric water heater frequently gets top marks when it comes to energy savings.
Economical & Environmental Impact 
From energy efficiency to nitrous oxide (NOx) emissions, there are many considerations to make when choosing a new water heater. NOx is a greenhouse gas that causes air pollution and is emitted by many gas water heaters. Most of the Bay Area will come under NOx restrictions between 2027 to 2031, so choosing a compliant model is important. 
American Standard offers low and ultra-low NOx models. While some models outperform others in their energy efficiency, the full range meets California standards and Energy Star minimum requirements. Most tanks come with some form of eco-friendly foam insulation, which boosts your savings, too.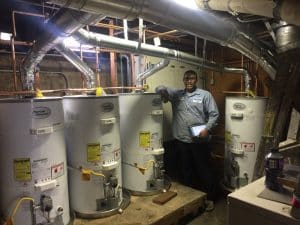 Size and Capacity
American Standard models come in a variety of sizes, from 30 to 100 gallons. Sizing a water heater is important, as bigger isn't always necessarily better. Depending on the size of your household and how much water you use, you'll want to pay attention to tank capacity (in gallons) and first-hour rating. For tankless systems, you'll need to think about flow rate.
A tank heater's first-hour rating (FHR) refers to how many gallons of water the unit can produce in an hour. The FHR measures efficiency rather than capacity. For example, American Standard's Ultra-Low NOx Atmospheric model comes in 30, 40, and 50-gallon capacities, each with an FHR of up to 86. That means they can produce 86 gallons of hot water in the first hour of use.
The flow rate is essential for sizing a tankless system since hot water is not stored but produced on demand. For example, a shower uses about 2.5 gallons per minute (GPM), and a washing machine about 3 GPM. If you expect to wash clothes and take a shower at the same time, you'd need a tankless system with a 5.5 GPM minimum.
If that sounds complex, contact your local plumbing pros at George Salet Plumbing! We're happy to help you size the perfect system for your home.
Model & Type
American Standard offers a variety of models and types to meet any need:
Storage tank:

These conventional systems use a heating element and a tank to store hot water for future use

Tankless:

Super-heated coils rapidly heat up water when you turn on a fixture, providing endless hot water on demand

Point-of-use:

Best for providing hot water to a single plumbing fixture (like a shower or kitchen sink), these systems are highly efficient

Heat pump:

Also known as hybrid systems, these units use ambient heat from the ground and air to assist the gas or electric heat exchanger
Making the switch to a tankless water heater for your home comes with numerous advantages, including energy savings, compact unit size, and consistent water temperature. If you're interested in switching, the team at George Salet can help you determine if tankless is right for you!
American Standard Water Heater Features & Benefits

American Standard isn't going to be the cheapest brand on the market, but it's also not the most expensive. They're a good middle ground, providing durability, quality, and long-term cost-effectiveness.
Pros of American Standard Water Heaters
Easy to maintain & strong warranties (6 to 12 years on all models sold by George Salet Plumbing!)

Built to last as long or longer than expected (10-15 years tank, 20 years tankless)

Good safety features, such as high-temperature control and gas leak detection

A range of short and tall models to fit differing space needs

Trusted name backed by a long tenure on the market

High-quality tanks and durable parts
Cons to Consider
Tankless selection is smaller than Rheem, Navien, and other popular tankless brands

Replacement parts can be on the more expensive side once the warranty has passed

Not as many smart technology & digital display options
Bottom Line: Are American Standard Water Heaters Good?
Yes! Whether you're searching for a natural gas tank or electric tankless water heater—or anything in between—American Standard is a reliable brand that plumbers trust. At George Salet Plumbing, we supply, install, and repair the best American Standard models as well as replacement parts and accessories. That's because we know they work hard for homeowners, and we're proud to associate our reputation with theirs.
Whenever you need to replace your water heater, trust our team to provide you with thorough and honest recommendations tailored to your home. We also work with a range of other trusted brands, from Rheem Performance to A. O. Smith, Bradford White to GE, and beyond. We're always ready to help you navigate your options and make the best choice for your needs and budget. Contact us today to schedule an assessment!
George Salet Plumbing: Best Water Heater Service in San Francisco
We're your skilled, clean, and honest plumbers! Serving the Bay Area since 1979, George Salet Plumbing has the community's best interests at heart. We strive to go above and beyond for all of our customers, helping them make the choices that benefit their long-term home health & happiness. Call (415) 234-0733 in San Francisco or (650) 557-3883 to reach a local plumber near you!